Visiting Cincinnati Children's During the Coronavirus Outbreak
Note: The guidance for specific situations listed below could change as the COVID-19 situation evolves. We will update guidance as needed. Check back here often for any changes.
Should we attend my child's upcoming appointment at Cincinnati Children's?
Many appointments are being canceled to enable social distancing and keep everyone safe. Care teams are reviewing appointments, and you will be contacted regarding your child's appointment status. Care teams are also reviewing other ways to be in contact with patients, including via phone calls, video visits and MyChart messages.
Are all Cincinnati Children's locations open?
In response to the COVID-19 outbreak, we are temporarily closing several locations including Anderson Urgent Care, Eastgate, Mason (including urgent care) and Northern Kentucky.
> See details and alternative places to go for urgent care, radiology and lab testing.
Do families need to wear masks when they are at Cincinnati Children's?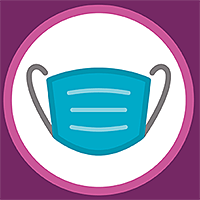 Yes, every person at Cincinnati Children's is now required to wear a mask while at the medical center.
Masks are provided to patients, families and employees during the daily screening process. Families also receive information about how to wear and care for the masks properly. There are specially marked containers to dispose of used masks.
We added this extra protection to help keep our patients, families and employees safe and healthy.
My child has a surgery or procedure scheduled. Will it be postponed?
Cincinnati Children's is canceling all elective surgeries. An elective surgery is one that has been previously scheduled and which a provider has carefully reviewed and feels it is safe to cancel at this time.
The decision was made with guidance from the U.S. surgeon general, the American College of Surgeons and Ohio Gov. Mike DeWine's office. This will free up beds for patients most in need of care. It will also reduce exposure risks to our patients and families, as well as our staff. Families will be contacted by phone if their child's surgery is impacted.
What should I do if I need to visit Cincinnati Children's for urgent or emergency care?
If you are seeking care because you think your child may have COVID-19, call your primary care provider or connect with a Cincinnati Children's provider through CincyKids Health Connect first. Most children who have the illness do not need emergency or urgent care. In-person visits to any care provider may actually increase the risk of getting sick, and testing is usually not required for mild illness.
If your child is experiencing trouble breathing, it is important to get to the Emergency Department as quickly as possible, no matter what. Make sure you let our ED staff know as soon as you walk in that your child has respiratory symptoms. If you know that your child has been exposed to someone who has COVID-19 or you have traveled internationally recently, share that information with our staff right away too.
If you need urgent care or emergency care for a situation that is not related to respiratory illness, go to the location as quickly as is appropriate. Learn more about how to decide where to go.
If you come in for care, only two healthy adults will be allowed to be with the patient in the ED or urgent care. Anyone who is with a patient must be free from fever, cough and colds, and stomach virus symptoms. Siblings or other children are not allowed to be in the hospital at all.
If you have a life-threatening emergency, call 911.
> Cincinnati Children's offers two 24-hour emergency care facilities.
> See details about Cincinnati Children's urgent care centers.
Who should I call if I think my child is experiencing symptoms of COVID-19?
If you are concerned that a child may have COVID-19, contact your child's primary care provider first to discuss your concerns and next steps.
If your child does not have a regular doctor or you need to talk to someone when your doctor isn't available, you can now use the CincyKids Health Connect app to talk to a Cincinnati Children's provider about next steps.
Providers will evaluate each patient using the video visit technology. They will screen for travel or contact with a person who has tested positive for COVID-19 and direct families to options for further evaluation.
Patients who have minor symptoms and do not meet testing criteria at the time of the visit will receive guidance from the provider for monitoring at home and instructions for follow-up, if needed.
COVID-19 screening video visits will be free of charge for families.
Is Cincinnati Children's screening for COVID-19 symptoms at entrances?
Yes, to protect our patients, their families and our staff during the outbreak, Cincinnati Children's is screening parents, visitors and employees every day before they enter patient care areas.
> Learn about screening details, the difference between screening and testing and whether your child can be tested at Cincinnati Children's.
What precautions are Cincinnati Children's taking to keep patients, families and visitors safe?
We follow the highest standards available for cleaning and infection control. All of our clinical and public spaces are cleaned regularly and following CDC guidelines.
If a patient arrives at Cincinnati Children's with respiratory illness, that patient will put on a mask immediately and wait in a private room away from other patients and visitors.
Has Cincinnati Children's made any updates to the visitor policy?
COVID-19 visitor restrictions are:
Inpatients are allowed two healthy adult visitors – including parents. These two people will have 24-hour access to the patient area.
Outpatients are allowed two healthy adults with them during visits.
Siblings or other children under 18 are NOT allowed at the hospital.
Anyone who is with a patient must be free from fever, cough and colds, and stomach virus symptoms.
Exceptions will be made for patients in end-of-life care on an individual basis.
> Go to our Visiting Guidelines page and watch a video.
Should children with compromised immune systems stay home from school?
If you live in an area where schools are open, our recommendation is to consult with the specialist who knows your child and their condition best and make that call together. There are too many variables for our clinical leadership to make a sweeping recommendation one way or the other.